[
Note: This post was preblogged. I wrote a couple posts that I intended to put up on the site to go live while I was already on my way. Plans change, though. While my family is en route to China, Karen and I are not. I'll blog more about this tonight or tomorrow, but for now, a window into a parallel universe that might have been:
]
I'm on a plane to Los Angeles right now, on the second of twelve flights I'll be taking in the next 22 days of a great adventure. I'm going to China for two weeks, exploring a land I admittedly know very little about. Sojourning with my best friend Karen, my Dad, Uncle, Aunt, and a few cousins and significant others, the lot of us will spend fourteen days exploring the cities and countryside that make up the wonders of one of the oldest empires in the world.
Returning from China, I'll be heading immediately to Ft. Lauderdale to attend (and present at) CHI2003, the annual conference for SIG-CHI, the Computer-Human Interaction special interest group of the Association for Computing Machinery.
I've packed two bags, and am leaving one with my mom in LA. In two weeks she'll bring it to the airport so I can get it during my two-hour layover between flights, between worlds.
I'm really looking forward to the trip. I don't, however, know how much internet access I'll have for this time, so I've taken the liberty of writing short, daily entries that talk about where I'm going and what I'm doing that day, if everything goes according to schedule.
As my caravan travels through China, a virtual preprogrammed me will be your guide to our travels. I'm sure that when I get back, I'll have all kinds of stories to tell; events that diverged from the path, stories nobody could predict, and pictures. Lots of pictures.
Karen and I are each bringing journals, and I expect I won't be bringing anything that has a keyboard at all. My iPod and digital camera will probably be the extent of my tech. No phone ho email, no internet, totally out of touch.
It should be a welcome break, an incredible journey in a wonderful land.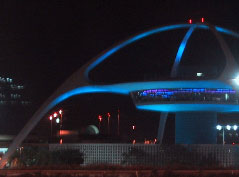 This afternoon I flew from Pittsburgh to Philidelphia, and am now flying from Philly to Los Angeles International Airport. I'm meeting my mom at the terminal, and in the three hours before Karen flies in from Oakland, we're planning on having dinner at LAX's signature restaurant Encounter, redesigned by Disney a decade ago to a retro-future theme.
Well, that's it for now. Karen and I are staying at Mom's tonight, then it's back to LAX early for another full day of travel, flying first to Tokyo, then Beijing. Wow...
If you like it, please share it.