Last weekend Rachel and I ventured across Pennsylvania to attend a wedding where, incidentally, Rachel was the Maid of Honor. We left early Friday morning with a map and a timetable in hand.
Trying to make the most of my time left in the strange and foreign land known as Pennsylvania, I couldn't pass up the chance to drop in on the Pennsylvania Dutch, and so we planned a 30 mile detour just past Lancaster and deep in to the heart of Amish and Mennonite culture. In this case, a rural town called 'Bird-in-Hand'.
At the urging of the buggy company's web site, www.amishbuggyrides.com, we took the "quickest, then most scenic way" in to town, in defiance of Yahoo Maps's directions. It's a bit of a quandary, when you think about it: Who knows more about the optimal route? The computer that warns you that roads it tells you to travel on might not even exist, or the Amish who are forbidden to drive cars and haven't travelled more than 15 miles from their birthplace? In this case, Yahoo had the direct route right, though the way we took may have been a bit more scenic.
We were already behind our tight schedule that would bring us to Reading (well, Hiedelberg, but who's counting?) in time for wedding rehearsal prep (involving the bride, her mother, bridesmaids, and a distinct absence of moi). Still, we made it, and the Buggy Ride bird was now in our hands, and we weren't going to let it go. Thankfully there was no line, just a buggy, a horse, and a driver (footnote 1). In 10 minutes we were underway. With a family of four fellow travellers sharing our buggy, I sat right up front on a small wooden footstool, right behind the horse. Unfortunately, the previous sentence isn't the only one that uses both the words 'horse', 'behind', and 'stool', but seeing as this sentence fulfills that prophecy, I don't have to bring it up later, but it happened, and at a trot, no less.
The first bit of the ride was along the highway, in the 'buggy lane'. I was impressed that the horse looked both ways before merging in to traffic, a good thing since it turns out that because horses aren't machines, there's no license or age required to operate such a beastie on the open road. We quickly turned off the main road on to a smaller road, where our guide pointed out the ways to tell whether a given house was occupied by Amish (dark-curtained, unadorned windows, no wires leading in to the house, often simple clothes on the washline) or by others. We passed a carpenter's studio with a sign declaring that he would be happy to make custom furniture to order. A few moments later we were passed by a large tour bus. I got a momentary insight in to the Amish lifestyle as twenty tourists crowded to the windows and pointed at us, the presumptive Amish they had come to see through their tinted panes.
It wasn't too much further when we pulled on to a dirt road, heading towards barns and silos. It turns out that this was the first day in a month that they'd been able to take this path, as the earlier rains had made the path too muddy for the cart's narrow wheels. We drove between fields, seeing a horse-driven plow team here, a person tending to a garden there.

Amish look Amish all the time.
The average Amish family has about 10 children, which is why every day is laundry day. It also explains their culture's survival. the Amish culture has just about zero population growth, since so many of the kids leave the farm.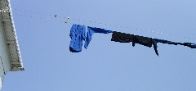 Driving past a barn and scooter (Amish will ride push-scooters, but not bicycles), we came upon three girls working in the family garden. they were probably 20, 14, and 3 years old. When the buggy came, the middle girl came out and offered us chocolate chip cookies, three for a dollar.
Amish know their cookies.
We went on our way, and continued between fields, with silos in the distance, and grazing cows near the path. Trundling by the cows, I wondered: Does our horse know he's a horse? Does he look down on the lazy fat cows as he works for his daily fare, or does he lament his position? Do the cows laugh at him? Is there a parallel to be found here between the Amish and wider civilization? Are we the cows?

Amish Factoid Time:
Amish don't work on Sundays. Sunday is God's day.
Weddings always happen in October and November, when they interfere the least with tending the land.
An Amish man shaves until he is married, then he grows a full beard, but never a mustache.
Weddings are always held on Tuesdays and Thursdays. It takes a full day to prepare for a wedding, and a full day to clean after a wedding, so mon-TUES-wed and wed-THURS-fri is the only way to ensure that nobody misses a wedding while preparing for another.
After the wedding, Amish newlyweds go door to door to collect their wedding gifts.
Amish aren't permitted to drive cars, but can be passengers.
Those Amish who require phones for their business keep the phone in the shed, a fair distance from the house.
I forgot to ask if the Amish vote.
Coming back to the terminus after our 30-minute ride, we saw a field trip of 20 kids in identical blue t-shirts. they were all going buggying. We asked how they'd handle them all, and sure enough a long buggy with lengthwise benches emerged to the kids delight.
A quick gift shop pit stop later and we were on our way to the rehearsal, plus a jar of blueberry syrup and a slab of rocky road fudge.
Amish Mennonites know their fudge. (Know the difference between Amish and Mennonites? Check the FAQ!) Actually, truth to tell, we thought they knew their fudge, and we wouldn't know any better for another two days, but that's another day, and another story.
---
Footnote 1: Driver is an interesting term. I was having a conversation with Ammy a few days ago about words that persist in our culture, after the literal meaning of the word has been surpassed by technology. Her example was an article about TiVo where it talked about taping shows, as if TiVo has anything to do with tape. I tried to think of others, but it's not easy to do off the cuff. 'Driver' is definitely such a word, as it derived [npi] from the person who 'drives' the horses forward. (go back up)
If you like it, please share it.