As I write this it's Tuesday evening. Tomorrow morning Amazon's going to unveil the
much-anticipated Kindle Fire
, and most of the tech blogs are writing their previews from the 'tablet war' standpoint. Reportedly built on Android, the Fire is being compared to other Android tablets out there as well as the iPad, but tomorrow's grand reveal won't primarily be the hardware but rather the new channel Amazon has created for delivering and consuming a wide variety of content. Tomorrow Amazon will present its new business model as a digital media ecosystem with both subscription plans and a-la-cart content. The Kindle Fire is an important piece to the puzzle, but it isn't the star of the show. Take a look at how Amazon's primary navigation has changed in just the last 12 months: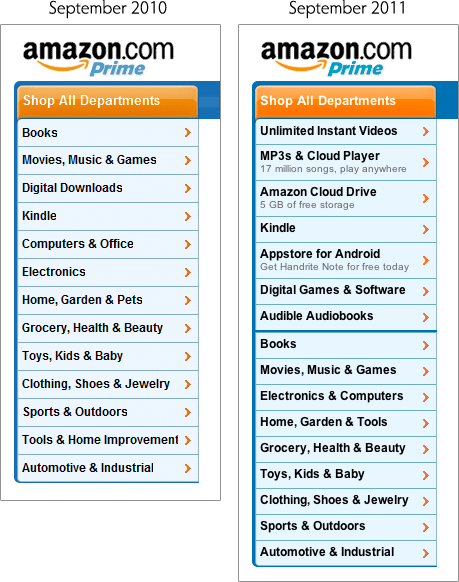 Books, Amazon's bread and butter, have gone from the top slot to #8. It's not unusual for the top slot or two to be used as a promo to raise awareness of a new product category, but not the top seven. Taking a closer look, the list is clearly divided into 'digital' and 'physical' sections. Going forward, this distinction will be much more important, as the Kindle Fire is a device intended to be the portal for accessing every item in the 'digital' list. Consider how each item on the list would apply to a 7" media tablet: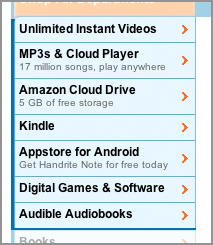 Unlimited Instant Videos - Netflix replacement, streamed to the tablet (or other device).
MP3 & Cloud Player - iPod, iTunes Cloud replacement. Store music on the device, or play from the cloud.
Amazon Cloud Drive - Dropbox replacement. View, edit and print some media types, send others.
Kindle - Expect this to be renamed to 'Kindle Books' tomorrow.
Appstore for Android and Digital Games & Software - Expect these to combine into an app store for the Kindle, with a distinctly separate app store for mainstream Android devices. Expect many Android titles to overlap, but the Kindle App Store will be more heavily curated to assure a more quality experience.
Audible Audiobooks - Round out the offering by letting you listen to books on the tablet.
While other Android-based tablets try to sell users on the hardware and the OS, Kindle Fire's form factor and OS will just be aspects of the experience. The greater point is that this is
Amazon, in the palm of your hand
. The latest estimates are that Amazon may sell the Kindle Fire for $149-199. While I wouldn't be surprised at that price point, I expect we'll also see a contract deal folded in with Amazon Prime. Imagine a free Kindle Fire with a 3-year commitment to Amazon Prime, or a $99 Kindle Fire with the purchase of a 1-year subscription to Prime. Personally, I'm even more excited about the potential keyboard-less e-ink Kindle, since I can justify having that and an iPad, but not an iPad and a Fire, and I expect we'll see some creative Amazon Prime promotional tie-ins at the e-ink Kindle level as well. After all, if the trend continues,
Amazon should start giving Kindles for free by this Fall
.
If you like it, please share it.