Thursday, Dec 11, 2003
Here now, just got back from the dealership and lunch with Rachel and showing it to Karen and now all my coworkers are away from their desks.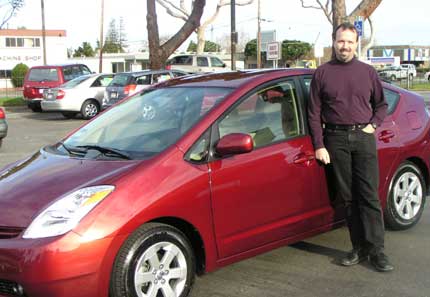 Now she needs a name...
I've more to write, but I have tons to do at work before Rachel and I go see Alegria tonight (front row! front row!) and my Firefly DVD came, too.
Breathing again, and will post lots soon!
And yes, it's really cool.
Wednesday, Dec 10, 2003
I hate waiting.
Wednesday, Dec 10, 2003
ring, ring
Hello?
Hi John. It's Kevin.
Car not here yet!
Just checking.
Tuesday, Dec 09, 2003
BargainPDA reports on a forthcoming
Bluetooth Stowaway keyboard
in the works from
Think Outside
.
While I think that's very cool, and I love the idea of not only typing wirelessly to my PDA, but even typing to my PDA while the PDA is secured away in my bag or pocket, I'm keen to know if the're using standard Bluetooth peripheral protocols. Specifically, I'm hooking up my old Lombard Powerbook to my TV as a sort of dedicated music/web/??? terminal, with the laptop tucked away with the other components. I'd been thinking about getting an Apple bluetooth keyboard and mouse to control it, but it would be so much nicer to have this convenient folding keyboard that would be even less obtrusive when not in use.
Just thinking about being anywhere within 30 feet of the computer, opening the keyboard, typing a song name and hearing it over the stereo. Also thinking about how it could be a nice peripheral for ambient computing (as oposed to just ambient displays).
Tuesday, Dec 09, 2003
"The car is on the truck."
That's what they told me yesterday. Now, apparently, "the car is on the train," but that didn't stop Rachel and I from dropping by the dealership before work this morning. Sure enough, the printout says it should be here today and, like the expectant but busy father, I'll be getting a phone call when the car arrives at zero-station, and I'll take off to see my baby.
But for now, there's work to be done, meetings to attend, and all that stuff.
Tuesday, Dec 09, 2003
Reason #448 of why Google is a fun place to work: Celebrity drop-ins. Last week Al Gore stopped by for lunch. About a month ago Howard Dean came to talk with us. Before that Jimmy Carter and Gwenyth Paltrow stopped by (individually, not together).
About 10 minutes ago Clinton stopped by. I suppose it was planned in advance, but the buzz ran through the building about 5 minutes before he came.

(If I'd known I'd have a better camera than my T616 phonecam)
He shook hands and I'm certain that if there were babies present, he would have kissed them. Anyhow, nifty Tuesday and a good distraction while waiting for my car.
---
Update (3:15pm): As it turns out, I have verified that there was a baby there and that she did get a kiss on the cheek. (Thanks for the scoop, Kerah!)
---
Update (4:35pm): Was Clinton's visit leaked to the press? Or maybe to The Onion? Judge for yourself: Clinton Googles Himself
Sunday, Dec 07, 2003
I wonder if anything should be read into the fact that the #6 book on Amazon's
purchase circles page for Apple Computer
is Po Bronson's
What Should I Do with My Life?
I read and liked Po's earlier book, The First $20 Million Is Always the Hardest, a fictional account of silicon valley culture, along the lines of Microserfs, though not quite as compelling (20Mil has a wider lens, while MS focused more on the person inside).
Certainly, it's a weird time for the silicon valley. Now that things have started settling down after the bubble and the burst, I think a lot of people are wondering what's next. There are companies that, while not gone, have lost their luster, and the idealism of their surviving employees might have been rubbed away at the same time.
Google's moving campuses down the block. A bunch of us moved in a couple weeks ago. We've moved in to one of the buildings in SGI's corporate headquarters, as they slowly move into smaller, less expensive digs. Right now we share the space. We share the lunchroom, the parking lot, but we're walking in different worlds. The attaboy slogans of idealism in the cafe, plastered with the SGI logo, ring hollow; a cautionary tale of how little the distance is between mission statements and jingoism. On the wall of the cafe, an LED sign blithely reminds SGIers that nominations for a certain internal achievement award are 'due by 4/17'. No year is specified.
In the meantime, Google is fantastic. Our company party was last Friday and it was a lot of fun. Coincidentally, the party was at the Computer History Museum which, furthering irony, also happens to have been SGI's headquarters, before they moved in to the building I'm in right now.
It's nearly 9pm and Rachel'll be coming home from her show soon. I probably oughta finish up and get home. Tomorow morning I need to go to the DMV first-thing before heading in to the office. Turns out my drivers license extension expires tomorrow and I'll probably need a valid license to pick up my new car which, incidentally, will also hopefully happen tomorrow.
Hope y'all had a great weekend!
Thursday, Dec 04, 2003
Benjy
test drove a Prius
recently. I have a lot of the same comments as he does, though I didn't get to check out the navigation system in the model I drove.
I've now seen six total Priuses (Prii?) in person. I can't wait until I have my own. Only a few more days...
Thursday, Dec 04, 2003
After getting such positive feedback
last year
, and a reminder email today from a reader (as well as from my mom, one of the singers) I'm happy to remind folks that the Verdugo Hills Showtime Chorus will be delivering
live telephone singing holiday cards
this holiday season.
The deal is that for just $5-9 (local, long distance, or international), you can have a group of professional-quality chorus singers call whomever you wish and sing them holiday wishes. These are live (and very nice) people, who enjoy giving holiday wishes as much as your friends and family will enjoy getting them.
All of the holidaygrams will be sung on Saturday, December 13th, and they're happy to sing on the answering machine if your recipient isn't home. Actually, some recipients prefer that so they can listen again and again.
Happy Holidays!
Wednesday, Dec 03, 2003
So my whole group moved offices last week to new digs, and now we're about four blocks away from the rest of campus. Needing to go to the other campus today, I opted to check out one of the company Segways to make the trip.
The Segway's cool, and too easy. Your speed has nothing to do with your skill, which is dangerous when you go too fast and have a problem.
Let's just say that the Segway is fine, and the grass stains will probably wash out of my jeans...
« Newer Posts
Older Posts »
Hi, I'm Kevin Fox.
I've been blogging at Fury.com since 1998.
I can be reached at .
I also have a resume.
I'm co-founder in
a fantastic startup fulfilling the promise of the Internet of Things.
The Imp is a computer and wi-fi connection smaller and cheaper than a memory card.
We're also hiring.
I post most frequently on Twitter as @kfury and on Google Plus.
I've led design at Mozilla Labs, designed Gmail 1.0, Google Reader 2.0, FriendFeed, and a few special projects at Facebook.